Date: 6th of May 1972. Place: Viru hotel, one of the biggest hotels of that time. On this day and at this place something very important happened. The doors of the first variete had opened then, and Lembit Mark was the one to lead it. Guests that came could see how richly the interior was decorated. Classical traditions and traditions of variete genre were reflected in the finishing of all the details. Thoroughly decorated interior plays a big role in helping the show to have the desired effect on the spectators.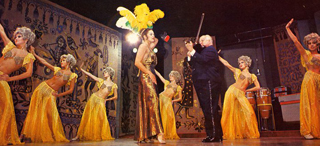 The people in charge of putting the troupe together and creating first programs were Inge Põder and Endrik Kerge. They have also put together the orchestra and solo-performers. The music for the first three programs was created specially for Variete Viru by well-known Estonian composers of that time – Gennady Taniel, Aarne Oit and Uno Naissoo. Inge Põder and Endrik Kerge were choreographers, the latter was also the author of libretto. The costume designers were Aime Unt, Gustav-Agu Püüman, Agu Pilt, Kaisa Pärenson. The directors of performances and dances were choreographers Heino Aassalu, Mai Murdmaa, Kalju Saareke, Mait Agu, Irina Generalova, Valentin Kataev (Leningrad), Vakil Usmanov (Moscow). In the year 1982 there were some changes in the managing staff – Ülle Ulla become the art-director of the variete, making Viru Variete stay in the leading positions among other Tallinn varietes.
We would also like to mention first-class professional performers that were with us during these years:
Juta Lehtiste, Larisa Kaur, Tamara Burova, Tatyana Narma, Tatyana Basova, Elonna Spriit, Sirje Nurmis, Helju Aren, Berta Krumm, Vyacheslav Majmusov, Jüri Laas, Janis Garancis, Ants Vähejaus, Aleksander Buldakov, Väino Aren, Endrik Kerge and "Girls" – one of the biggest dance groups in Tallinn, who were a dancing and singing magnet for the audience.
Until "Supernova", staged in 1986, every evening the program was accompanied by a live orchestra, consisting of the best musicians in Tallinn: Arvo Pilliroog, Toivo Unt, Tiit Paulus, Margus Kappel, Enn Vai, Tõnu Naissoo, Jaan Kuman, Helmut Aniko, Tõnis Kõrvits, Tiit Varts, Heiki Kalaus and many others. The leading singers were Jaak Joala, Els Himma, Marju Kuut, Oleg Melnik, Boris Lehtlaan.
A lot of things happened during this period from 1972 to 1985. By the time of merely 13 years Viru Variete managed not only to stand on its own legs and develop, but also, thanks to the talent of the managing staff, earn success and glory also outside the Soviet Estonian republic.